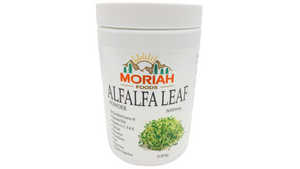 Moriah Foods
Alfalfa Leaf Powder - 220g
Regular price
$11.25
$0.00
Unit price
per
Free shipping within Canada on $100+ purchases.

Alfalfa is an age-old herb, cultivated before the era of ancient Greeks and Romans for use as livestock fodder.  Once known to Arabians in the Middle East as the "father of all herbs".

It also contains the highest chlorophyll content of any plant and is often used to make liquid chlorophyll, which is highly nutritious.

Ingredient: Alfalfa Leaf Powder
Recommended Dose: Take 1 to 2 tablespoons daily with water or juice.  Or, you can add it to your smoothie.
Contains No: artificial coloring, artificial flavor, preservatives, yeast, corn, milk derivatives, lactose, salt, sodium, sugar, gluten, start, or wheat.

---