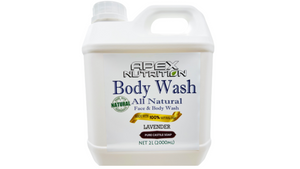 Apex Nutrition
Apex Castile Soap: Lavender 2L
Regular price
$31.53
$0.00
Unit price
per
Free shipping within Canada on $65+ and the U.S.A on $100+ purchases.
APEX NUTRITION'S All Natural Castile Soaps are made from high-quality premium grade organic essential oils and are 100% pure oils and vegetable-based. This makes our soaps safe to use on all skin types, even on sensitive skin. Our Castile soaps are mild, making git safe on the baby's skin as well.
Our Castile soaps are versatile vegetable-based, free of animal fats and synthetic ingredients. It can be used as body wash, face wash, and shampoo. It can also be used as hand soap, household cleaner, and dish soap.
You only need a few drops for a good creamy lather. It provides deep cleansing without drying out your skin and provides great moisture and nourishment to the skin.
Suggested Use:
Body wash
Face wash
Hand wash
shampoo
Household cleaning
Dishes 

Ingredients:
Organic Sunflower Oil
Organic Coconut Oil
Organic Peppermint Oil
Aqua
Potassium Oleate
Potassium Cocoate
Potassium Citrate
Glycerin
Citric Acid
---