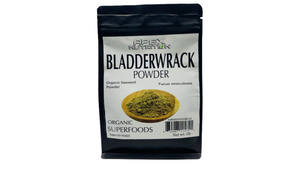 Apex Nutrition
Bladderwrack Powder - 1lb
Regular price
$34.53
$0.00
Unit price
per
Free shipping within Canada on $65+ and the U.S.A on $100+ purchases.
Bladderwrack is a seaweed found on the coasts of the North Sea, the western Baltic Sea, and the Atlantic and Pacific Oceans, also known by the common names black tang, rockweed, bladder fucus, sea oak, black tany, cut weed, dyers fucus, red fucus, and rock wrack.
It is one of the most common types of seaweed found in the oceans. The name Bladderwrack refers to the bladder-like air pods (vesicles) that keep the plant afloat in the ocean. The brown alga known as Bladderwrack is also a common source of kelp.

Botanical Name: Fucus vesiculosus
Contain No: artificial coloring, artificial flavor, preservatives, yeast, corn, milk derivatives, lactose, salt, sodium, sugar, gluten, or wheat.

---