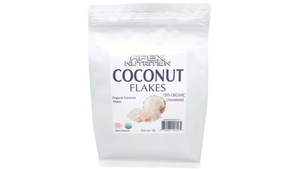 Apex Nutrition
Coconut Flakes - 1lb
Regular price
$10.50
$0.00
Unit price
per
Free shipping within Canada on $100+ and the U.S.A on $200+ purchases.

Coconut Flakes are a lovely option for a healthy snack. Not only can you munch on these flakes, but you can also use them as toppings to decorate your baked goods. Coconut Flakes can be added to your trail mix, granolas, and even your morning cereal! 
*100% Organic & Unsweetened
Get creative... Here are some food ideas!
---