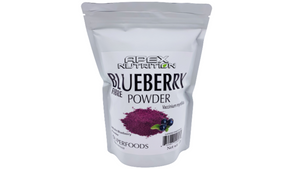 Apex Nutrition
Blueberry Fibre Powder 1lb
Regular price
$45.04
$0.00
Unit price
per
Free shipping within Canada on $100+ purchases.

Blueberries come from the Vaccinium angustifolium plant. For years, blueberries have been enjoyed for their amazing taste and versatility in foods. With Blueberry powder, you can add it to your smoothies, shakes, teas, and especially blueberry flavored baked goods.
 Botanical Name: Vaccinium myrtillus
Ingredient: 100% Blueberry Fibre Powder
This product is Gluten-Free and Allergen-Free.

100% Natural: The Highest Quality For Optimal Taste and Health 
---