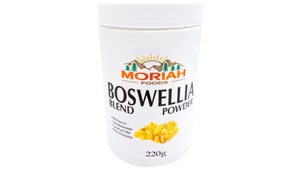 Moriah Foods
Boswellia Blend Powder - 220g
Regular price
$35.28
$0.00
Unit price
per
Free shipping within Canada on $100+ purchases.

The Boswellia species are trees located in Ethiopia, Somalia, India, and the Arabian Peninsula. Devil's Claw (Harpagophytum procumbens) is a plant native to the Kalahari Desert in Southern Africa. It grows in the savannahs of Namibia, South Africa, and Botswana. It got its' name for the appearance of its fruit, which is covered in hooks that catch onto the fur of animals.
Ingredients: Boswellia extract, Devil's Claw root, Yucca root, and Ginger root Powder
Recommended Dose: Take 1/4 teaspoon 1-2 times daily with water. 
Caution: Herbs should always be used with caution. May not be safe for pregnant women. 
Product sealed for your protection. Do not accept a product if the safety seal is broken. Store in a cool, dry place to preserve freshness.
Contains NO: artificial coloring, artificial flavor, preservatives, yeast, corn, milk derivatives, lactose, salt, sodium, sugar, starch, or wheat.  
---