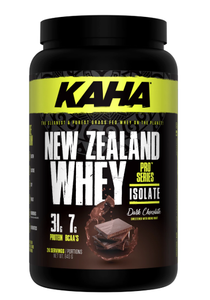 Apex Nutrition
KAHA New Zealand Whey Protein Isolate 720g - Chocolate
Regular price
$49.51
$0.00
Unit price
per
Flavour: Vanilla
Servings: 24
Suggested Use: 1 Scoop (30g) into water or juice (250mL). Can be consumed 1-2 times daily.
"New Zealand Whey Pro-Series is guaranteed 100% pure undenatured protein, non-GMO, and processed at low temperature. New Zealand carries a well-regarded reputation for highly regulated dairy processing. The absence of growth-inducing hormones and antibiotics in New Zealand cattle has led New Zealand Whey Pro-Series to be one of the highest quality protein products available". 
"This unique formulation contains a full range of Amino Acids involved in muscle protein synthesis, it assists in the building of lean muscle mass when combined with regular resistance training and a healthy balanced diet. It's also a great source of protein to help build and repair body tissues". 
GLUTEN-FREE
LACTOSE-FREE
SOY-FREE
WHEAT-FREE
GMO-FREE
NO HORMONES
NO Added Antibiotics
NO Artificial Flavours or Sweetners
---