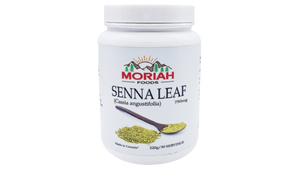 Moriah Foods
Senna Leaf Powder 220g
Regular price
$20.43
$0.00
Unit price
per
Free shipping within Canada on $100+ purchases.

Senna (from Arabic sanā), the sennas, is a large genus of flowering plants in the legume family Fabaceae, and the subfamily Caesalpinioideae. This diverse genus is native throughout the tropics, with a small number of species in temperate regions. The number of species is estimated to be from about 260 to 350. One of the species for the genus is Senna alexandrina. About 50 species of Senna are known in cultivation.
The emodin glycosides present in Senna has many therapeutic benefits including as an anti-inflammatory, antispasmodic, and the ability to inhibit or destroy viruses.

Ingredients: Senna Leaf Powder (Cassia angustifolia)
Contains No: artificial coloring, artificial flavor, preservatives, yeast, corn, milk derivatives, lactose, salt, sodium, sugar, gluten, start or wheat.
---